Kitesurfing is super fun. Not only will you get to relax while riding the waves with your power kite and board, you'll also have a great workout at the same time. However, you might be looking for other kitesurfing spots aside from your city or town. So, here are four ideal places for your next kitesurfing trip. There four locations just might be the best places for kitesurfing in the world.
Maui, Hawaii
Many kitesurfers hail Maui as one of the best islands in the world for this watersport. Some communities even call this city as the "World's Windsurfing Capital" and with good reason. Maui is a place where wind and water form a harmonious combination that kitesurfers from across the globe come to love. You might even see Maui as the mecca of wind and water sports.
Make sure to book your trip to Maui between March and October. Generally, the wind and water conditions are ideal for kitesurfers during these months. However, you might find it challenging to find lodgings near Maui's coastline. Hotels are scarce near the city's beaches. However, you can rent an apartment or guest house if you want a place to stay near one of Maui's kitesurfing spots.
When you get to Maui, you can always choose from the five best kitesurfing spots that include:
Paehi
Hookipa Beach Park
Baby Beach
Lanes
Flash Beach
You can also find Kite Beach, which is a famous kiteboarding beach for beginners and veterans. If you plan to kitesurf in this area, you still need to follow its rules, such as: keep your kite lines near trees when setting up and don't jump over the nearby rocks.
Do remember to note that some kitesurfing spots in Maui are only ideal for experts. Make sure to validate your experience level and safety gear before you hit these beaches. Furthermore, ensure that your kitesurfing equipment won't heighten the risk of accidents and injuries. So, if you have a faulty harness, search online using keywords such as "kitesurf harness reviews" to help you identify a new model.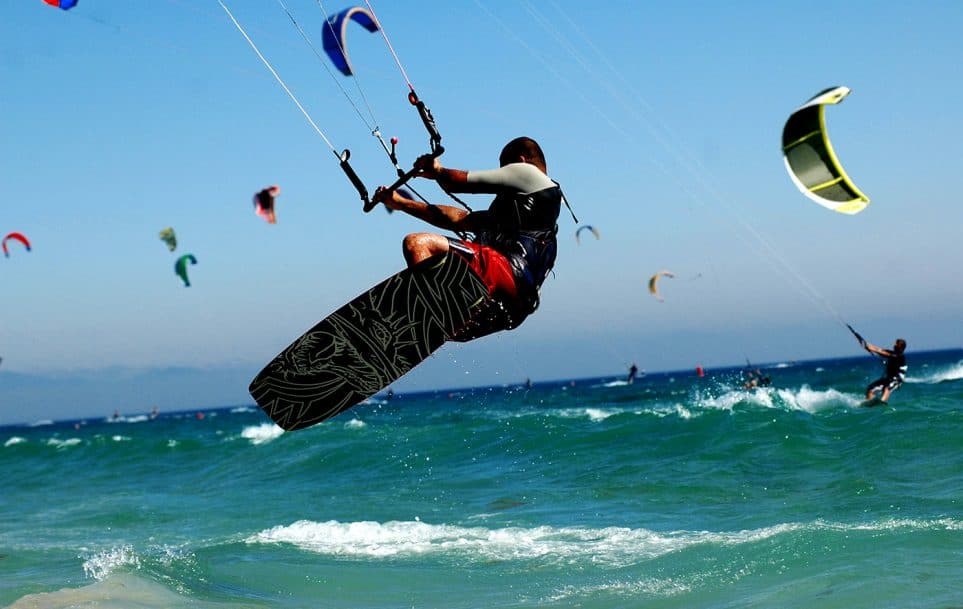 Tarifa, Spain
Tarifa entices lovers of the sea with beautiful beaches and ideal conditions for various types of water sports. Several kitesurfers find this city a joy to visit because of its windy climate. Some kitesurfing communities even call this locale the "Kitesurfing Capital of Europe."
Aside from its perfect sun-and-wind atmosphere, you can also enjoy monster waves that are ideal for practicing your kiteboarding tricks. At the same time, bear in mind that you may not be the only one practicing. Many enthusiasts and professionals from around the world plan and visit Tarifa for kitesurfing, particularly when your trip will be between February and October. Expect crowded beaches when traveling to this city during these months.
Tarifa's best kitesurfing spots include:
Playa de Los Lances
Playa de Valdevaqueros
Playa de Bolonia
Playa Hurricane
Again, some of these kitesurfing spots are only fit for experts. Unless you're an expert, proper research is crucial to ensure you won't go to one of the beaches that are ideal for veteran kiteboarders. For example, if you choose to kitesurf at Playa Punta Paloma, the waves here can reach one to two meters high. So, if you're a beginner, you might find it too dangerous for your current skill level to try these waves.
Kalpitiya, Sri Lanka
 This city in this island country in South Asia plays a vital role in the kitesurfing world. Although Sri Lanka has many excellent beaches for kitesurfing, Kalpitiya holds a special place in the hearts of many kitesurfers.
Here, you can choose from the best locations that include:
Kalpitiya Lagoon
The Indian Ocean
Vella Island
Mannar
Kappalady Lagoon
Among the different kitesurfing spots mentioned above, around the 126-square-mile Kalpitiya Lagoon are many amenities and features to provide kitesurfers with a range of water sport experiences. At the same time, this lagoon has reliable winds throughout the year. You'll glide along the surface of the water at about 25 knots, and that figure is decent enough for casual glides or practicing new tricks.
Furthermore, several pro kitesurfers travel to this destination as the lagoon has plenty of space to train. While the lagoon's beaches can be overcrowded with tourists at specific days of the year, you won't worry about crashing into other surfers when you're on the water. The entire area can comfortably accommodate about 40 to 45 kitesurfers. Any more than 45 kitesurfers, and the lagoon can feel a bit overcrowded. However, you can kite to the edge of the body of water for some surfing near the Indian Ocean where there are less people.
As for Kalpitiya Lagoon's launch spot, you'll start at the wind sandbar separating this body of water from the Indian Ocean. If you have a boat or other water vehicles, you can head to the Indian Ocean. Going back to the lagoon itself, the flat water of Kalpitiya Lagoon is excellent for casual cruising. Hence, you can go here if you want to start and learn kitesurfing from the basics. Otherwise, if you're a veteran, you can hone your skills through on the flat surface of the lagoon.
Zandvoort aan Zee
Zandvoort aan Zee in The Netherlands presents kitesurfing experiences for kitesurfers of all skill levels. However, unlike the kiteboarding spots in Maui and Tarifa made for experts, this Dutch coastal town has relatively calm waters with a decent amount of wind. With these climate conditions, you can freeride as much as you want for a series of relaxing kiteboarding afternoons. The winds will be relatively steady, and you may find the town's populace to be quite friendly and helpful in directing you to the nearest beach.
However, do mind the zones as the beaches have hidden rocks and other obstacles. Don't get too relaxed during the freeride or you might end up wiping out in the process. Thankfully, the winds won't be strong enough to create high risks of severe injuries. As a bonus, you can also find food spots near the beach while you keep your feet in the sand. So, you don't need to pack up your kitesurfing gear when you want to grab a bite.
Takeaways
Maui, Tarifa, Kalpitiya and Zandvoort aan Zee are four of best and most popular kitesurfing places around the world. If you picke them you will for sure not be sorry. These locations are ideal for kiteboarders of different skill levels (this also depends on the season).